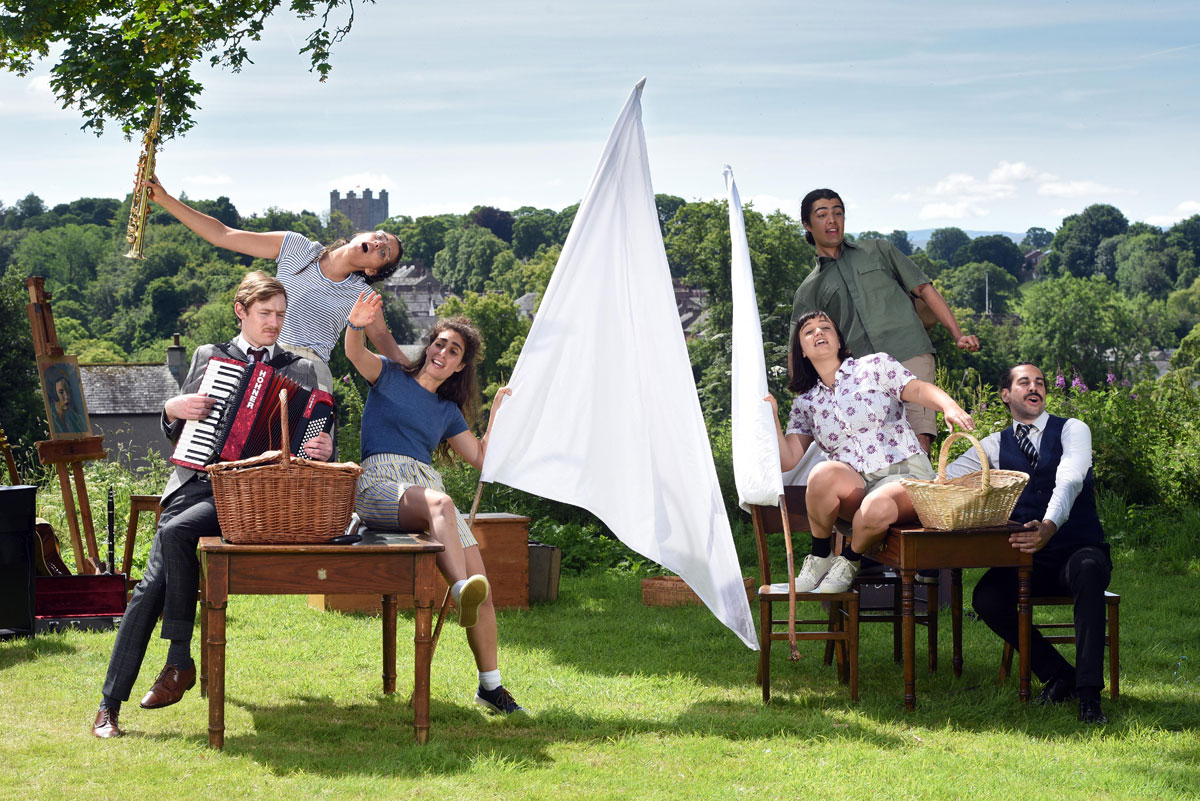 Swallows and Armenians, an actor musician stage production as part of Cumbria Opera Group's Weekend of Outdoor Opera 2022. Photo: Asadour Guzelian
Looking ahead in 2023!
The latest version of Swallows and Armenians is an actor musician stage production. We are well into planning our tour for 2024 to begin in Yorkshire, heading to the Midlands and on to London. Our fundraising has already raised over £1000 but we are aiming for £3000 so any donations would be used in supporting original, live theatre with an important message about celebrating diversity in British culture. Our fundraising link is here!
Blood Oranges Dipped in Salt and Swallows and Armenians – A Mapbook for Young Explorers, are in Shifting Borders: A Journey to the Centre of our Worlds at the Treasures of the Brotherton Gallery, University of Leeds until 21 December. Curated by Chris Taylor, artist and Professor of Fine Art Practice at the University of Leeds, this exhibition takes a deep dive into maps, guidebooks and more to explore how these documents can capture notions of place, home and nationhood.
I was honoured to ask to speak on the Armenian panel at Centrala, Birmingham on a one-day conference 'Building Solidarity in the Creative Sector for Social Change in Times of Conflict', at which I recited my epic poem Armenian Coffee. Centrala is a cultural venue which promotes contemporary art and artists from Central and Eastern Europe. The event took place during the exhibition Heteratopias in the Turbulent Zone by ART LAB YEREVAN, Armenia.
The first draft of my first novel, The Storyteller of Van, an epic work of fiction set in Eastern Turkey 1915 at the start of the Armenian Genocide is in its final stages and I'm aiming to send this out to agents and publishers by the end of July. The development of this serious endeavour was supported a Developing Your Creative Practice grant from Arts Council England, for which I am very grateful.
On my home turf in Appleby, I have just finished a project celebrating the history, landscape, stations and communities along the Carlisle-Settle Railway, working with children from Appleby Primary School. The ten colourful panels can be viewed at Appleby Railway Station.
We're raising £3,000 to help us fund a full-length Actor Musician production of Swallows & Armenians, touring to UK theatres in 2024